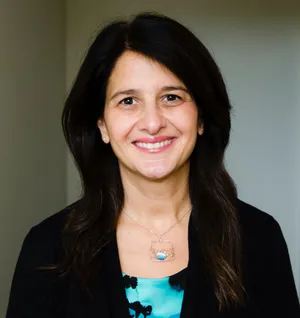 Hanna Yerushalmi, LCPC creates a non-judgmental, open, and warm space to help clients feel comfortable sharing intimate conversations. She grew up in the Midwest, where kindness is a priority and listening is the first step in a relationship. When working with clients, her goal is to provide a warm, accepting atmosphere.
Hanna's passion is empowering those around her to be their best selves and build strong and healthy relationships. She helps individuals and couples who are struggling with anxiety, relationship issues, grief, intimacy challenges, and trauma. Her experience includes working in areas such as women's health, low desire, differences in sexual desire, painful sex, unconsummated marriages, pre-marital relationships, couples conflicts, pregnancy and postpartum, infertility, addiction, sexual assault, attachment trauma, body image, anxiety, sexual anxiety, low libido, dealing with stress, parenting, and depression. She is in training to become a certified sex therapist.
Prior to her training as a therapist, she helped hundreds of individuals and couples in her work as a pastoral counselor. Clients of all religions and varying levels of observance will feel accepted and welcomed by Hanna. As a first generation American, she has an awareness and appreciation of the beauty and complexity of different cultures.
Hanna has a Doctor of Ministry from the Post Graduate Center for Mental Health at Hebrew Union College - Jewish Institute of Religion in New York. She received her Master's Degree from Bowie State University and her Bachelor's Degree from the University of Cincinnati. She is licensed in the state of Maryland as Licensed Graduate Professional Counselor and is a Nationally Certified Counselor through the National Board for Certified Counselors. In addition to her work as a therapist, Hanna is a writer, teacher, and motivational group leader.
Currently, Hanna lives in Annapolis and together with her husband, is raising four children by teaching them about kindness and the value of listening.
- Licensed to practice in Maryland
- Under sex therapy supervision by Mieke Rivka Sidorsky, LCSW-C, Sex Therapy Supervisor